Need affordable web design and web hosting that will be with you for the long haul? While some designers will design a generic site and run, Content is Queen Productions works closely with you to ensure your website, both design and hosting , fulfills your business goals and integrates smoothly into your marketing strategy on budget. And we're here to stay, having been in business for nearly a decade!
We're there from the initial planning through the launch of your website. We handle all of the web design and web hosting for your business so you can focus on your core business and let us handle all of the technical details.
We're still there afterwards to promote your website to search engines and the world, provide site updates and future site upgrades. And we're always here to answer any questions you may have and provide additional help to make sure you understand every step of the process.
Whether you're web savvy and just want us to design or if you are new to the web and need help with the basics such as answering your web site e-mail messages, we're always here and happy to help.
Some of our services include:
Website design and web programming
Web hosting
Search Engine Optimization (SEO)
Accessibility Reviews
Online Marketing campaigns
Small Business Marketing consulting
Add the web to your marketing toolbox
AND learn how to use it!
We provide all of the tools you need to build your business through the web and we make sure you know how to use them! We make sure our clients learn about important topics such as the following:
How to integrate the website into the current marketing strategy to increase the value of each marketing campaign
How search engines index web sites and what strategies are best to exploit their services
How to effectively use website statistics to tailor marketing and sales campaigns to increase your business
How to effectively reach customers through the web and e-mail marketing campaigns
Never will one of our clients say, "Yeah, I have stats but I don't know what they mean to me or how I can use them for my business." We strive to teach our clients what they need to know to make the web work for them, and we're there to help step of the way.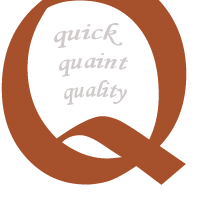 "Never having developed a website, it was with some trepidation that we entered into a project. The first developer we spoke with spoke "technology," not something that we understood. They also dropped the project before it was actually started. We consider ourselves fortunate to have found Misty Urban. Misty carefully listened to our requirements and explained in plain English how she could meet them. She offered several alternatives to us and allowed us to chose what was best for us based on functionality and cost. She was very patient as we determined what would work best for us based on her initial drafts. Once the website was up and running, Misty met with us and explained our options for adding additional features and site maintenance. Overall, I would rate our experience with Misty and the product she produced as excellent."
Fritz Crabb
Director of Literacy Initiatives
Greater Grand Rapids Reads

View the GGRR website at: